The Oil of Saint Philomena
In 1805 when the Sacred Body of Saint Philomena was enshrine in Mugnano del Cardinale, it was the custom to burn an oil lamp in front of the body of a Martyr or Saint. As the word spread rapidly of this Virgin Martyr who had a arrived in Mugnano del Cardinale many people came to the church to pray.
One such woman was from a local town, full of faith in God, she dipped her finger in the oil lamp and anointed the eyelids of her blind child. To the astonishment of all present, the child's sight was immediately restored. This miracle took place 8 days after her body arrived in Mugnano, August 18th 1805, and has been recorded as the first Miracle of the oil from the lamp which burns in front of the Sacred Body of St Philomena.
The tradition of the blessing of this oil, which is a sacramental of the Sanctuary of St. Philomena, has been handed down through generations. Each year in January, the local Bishop and the Rector of the Sanctuary participate in the blessing of the oil of Saint Philomena. Pilgrims come in procession to the Sanctuary, donating the oil, placing it in front of the Sacred Body, where it is then blessed and distributed worldwide in the familiar red container bearing the name of the Sanctuary. The Sacred oil is a sacramental and comes only from the Sanctuary of St. Philomena where her sacred Body rests. . This Blessed Oil of St. Philomena, which may not be replicated outside the shrine, are provided to Official Archconfraternity Centres throughout the world for distribution to devotees who request it
The blessing with the Oil of St. Philomena as a devotion may be given by a priest as well as a lay devotee, as long as its use is within the prayerful intention of the Church as a sign of divine blessing and an expression of faith. The anointing may be given on the forehead and the following prayer may be recited.
Source: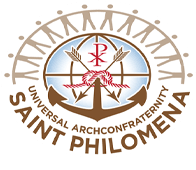 Prayer to St. Philomena for use with her blessed oil
O St. Philomena,
Virginal bride of Jesus and daughter of Mary Immaculate,
As we bless ourselves with your holy oil,
we invoke your powerful intercession
for heroic purity of heart
and the perfection of Christian love.
May its use strengthen our souls and heal our bodies
according to God's perfect will.
Dear St. Philomena, model of purity and icon of courage,
especially for the youth of today,
pray for us that God may grant to our hearts
a martyrs courage under persecution,
A holy purity of mind and body,
And a heroic love for Jesus,
our divine Lord and Master.
Amen